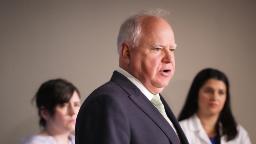 Washington
CNN
 — 

The voting rights of thousands of convicted felons in Minnesota are poised to be restored this summer once they leave prison, instead of after they complete parole, thanks to new legislation that is poised to be signed into law by Democratic Gov. Tim Walz.
SF26 was passed by the state Senate earlier this week after the House passed its version of the legislation earlier in the month. Both chambers are controlled by Democrats.
Walz is expected to sign the legislation, referred to as Restore the Vote by its supporters, into law as early as next week, his office said.
The bill also directs corrections officials to inform felons being released from prison about their newly restored voting rights and provide voter registration materials to them.
Once signed, the law will go into effect on July 1 and allow formerly incarcerated felons to vote from that day forward.
The passage of the bill follows several years of legal challenges to the constitutionality of the state's current law, which prohibits people who are on felony supervision or probation from voting even if their prison term has been completed or they have never spent a day in prison. Removing obstacles to voting for former felons has been the subject of partisan warfare in some states because of the perception that this cohort of voters is more likely to support Democratic candidates.
In 2019, the American Civil Liberties Union of Minnesota challenged that law, arguing that Minnesota's constitution guaranteed someone's right to vote automatically once they were released from jail. The law had prevented more than 50,000 Minnesotans from voting and disproportionately affected people of color, the ACLU said.
Minnesota's Supreme Court, however, earlier this month kicked the issue to the state legislature, which had been considering the Restore the Vote bill since early January, when Democrats took over the state Senate.
"In Minnesota, we have more than 55,000 of our friends, neighbors, and family members who are not incarcerated but are barred from voting," Democratic state Senate President Bobby Joe Champion, the primary sponsor of the bill in the chamber, said in a statement following its passage. "The individuals impacted by this bill – Restore the Vote – are paying taxes, raising families, and contributing to our communities. They should be allowed to vote. The research is also clear in showing that when formerly incarcerated people are connected to their communities and participating in pro-social activities such as voting, recidivism goes down."
Ahead of the final vote, Republican senators tried to limit the bill's scope by preventing incarcerated people who had been convicted of more violent crimes, including child rape, from having their voting rights restored under the bill.
"Minnesota families are expecting legislators to develop solutions to reduce record breaking crime and violence. Instead, Minnesota Senate Democrats are leaving Minnesotans vulnerable by focusing on providing full state privileges and benefits of convicted felons and non-citizens here illegally," Senate Republican Minority Leader Mark Johnson said in a statement following the vote.
Champion, however, argued that the purpose of the bill was not to focus on sentencing and pointed out that anyone who reoffended would ultimately have to go back to prison.
Once Walz signs the bill into law, Minnesota will join 21 other states that automatically restore the right to vote for some or all ex-felons upon their release from prison, according to the Voting Rights Lab, which tracks election laws at the state level.