Shanthi Priya was at the top of the game when she started her acting career at 19. Within a short span of time, she became one of the leading actresses working across Tamil, Telugu, Kannada and Hindi cinema. She decided to quit the film industry after getting married to actor Siddharth Ray at the age of 24. After three decades, she is all set to make a comeback on the big screen with Sarojini Naidu's biopic.
In an exclusive conversation with ETimes, Shanthi Priya gets candid about her sabbatical from films, facing a tough time while raising her children as a single mother after her husband actor Siddharth Ray's death. She shares plenty of memories from the 90s and her time working with
Akshay Kumar
and other stars. Shanthi Priya also reveals her plans for a full-fledged comeback to the big screen.
It's been nearly 3 decades since we saw you on the big screen. Why did it take so long for your comeback?
I've not taken that long. I have done Mata Ki Chowki and other shows between 2008 to 2012. But, I agree, it's been a long time for the big screen. It is because of family issues that I had to take a step back after I lost my husband. And then I had two boys to raise.
You entered the film industry at 19 and within a span of 3-4 years you managed to do around 30-40 films.
It can happen today as well. It's not that difficult to manage. Jaise jaise pictures aate gaye, mai karti gayi (I kept getting offers and I kept making movies). I was totally into it. I truly believe in giving my 1000 per cent effort to whatever I do. Dedication is my one big quality. I just took on opportunities that came my way and they were all beautiful and challenging characters. I couldn't say no to anyone of them because at that time I had done 2-3 films down South and one Hindi film.
I had played a dual character in the 90s. These were beautiful opportunities where the directors and writers believed in me, they trusted me that I can do good and give back in the way that they had imagined the characters. That's what I have done. And I kept getting those opportunities. As you have pointed out, in the span of three four years, I finished 32-33 movies. Main woh abhi bhi kar sakti hoon (I can still do that).
Did you always want to become an actress?
No. I had never thought about becoming an actor. I was a classical dancer. My sister Bhanupriya and I, had learnt classical dance since childhood. When didi started acting, I also thought of becoming an actor. Otherwise, I actually wanted to become a lawyer. I feel that was my forte.
You were referred to as the rising star during the 1990s. What led you to quit films when you were at the top of the game?
Pyaar me pad gayi thi (laughs), ishq me pad gayi thi (I fell in love). I was in love with the person I got married to. I truly believe in whatever I do. Jab maine shaadi ki, woh jo step liya maine, usey main apna 1000 per cent dena chahti thi (When I took the step of getting married, I wanted to give it 1000 per cent). So I did that and played that character in life, which is why I had to take a step back from acting. But they (actor Siddharth Ray, Shanthi Priya's husband, was V Shantaram's grandson) were also from the same industry so there were no restrictions for me. In the 90s, there was a belief that you shouldn't work in the film industry after getting married. But this was not the case with me. Many actors have pursued their acting career even after marriage. It was totally my decision to dedicate myself to my marriage. In our industry, there is no time schedule, we have to constantly move out of town, go for outdoor shoots and there were a lot of other things that I was not convinced about. So I took a step back, gave my best to my family and I'm still doing it. Now I thought about coming back to where I belong.
Leaving behind a flourishing career is never an easy decision. What convinced you it was the right choice?
As actors, after we listen to narrations about a character, we make up our mind about whether we want to sign the film or not. Usually, we say yes to the role and the film only when we are confident about the character. Similarly, shaadi purey dil se hoti hai (The decision to marry is take wholeheartedly) and it is up to us how we want to carry on. It is in our hands whether to break it or keep it going till the end of time. So I was sure about what I wanted to do. I do believe in myself. And I believed in my partner. That is why we had a rapport. And we have two beautiful sons, Shubham is 27 and Shishya is 21. I am still living with the same family even after 30 years. I got married in 1992 aur wohi parivar me main abhi tak hu (smiles).
Was it tough raising two children on your own as a single mother?
I am a fighter. I take everything as challenge. Actually, mujhe bohot bohot taqleef hui thi (I was troubled a lot) to get myself out of that situation. I was nowhere to be found because it was a family situation for me. I was in pain for 2-3 years. The pain used to hit every time I looked at my kids. One was about 10 years old and the other one was about 4.5 years old. I felt they didn't deserve what they were going through. It wasn't fair that they lost one parent and then had to see the other parent deal with depression. So, I told myself, 'This is not who I should be and this is not what I should give my sons because they don't deserve what they're seeing'. I worked on myself again. I took it as a challenge. I decided to give them the best and then I worked on it and I came out of it. And yes, I couldn't have done any of that without my children's help. Equally important was the support of my family including my mother, sister, brother, mother-in-law, everybody. Without them, I would have not been able to do what I have.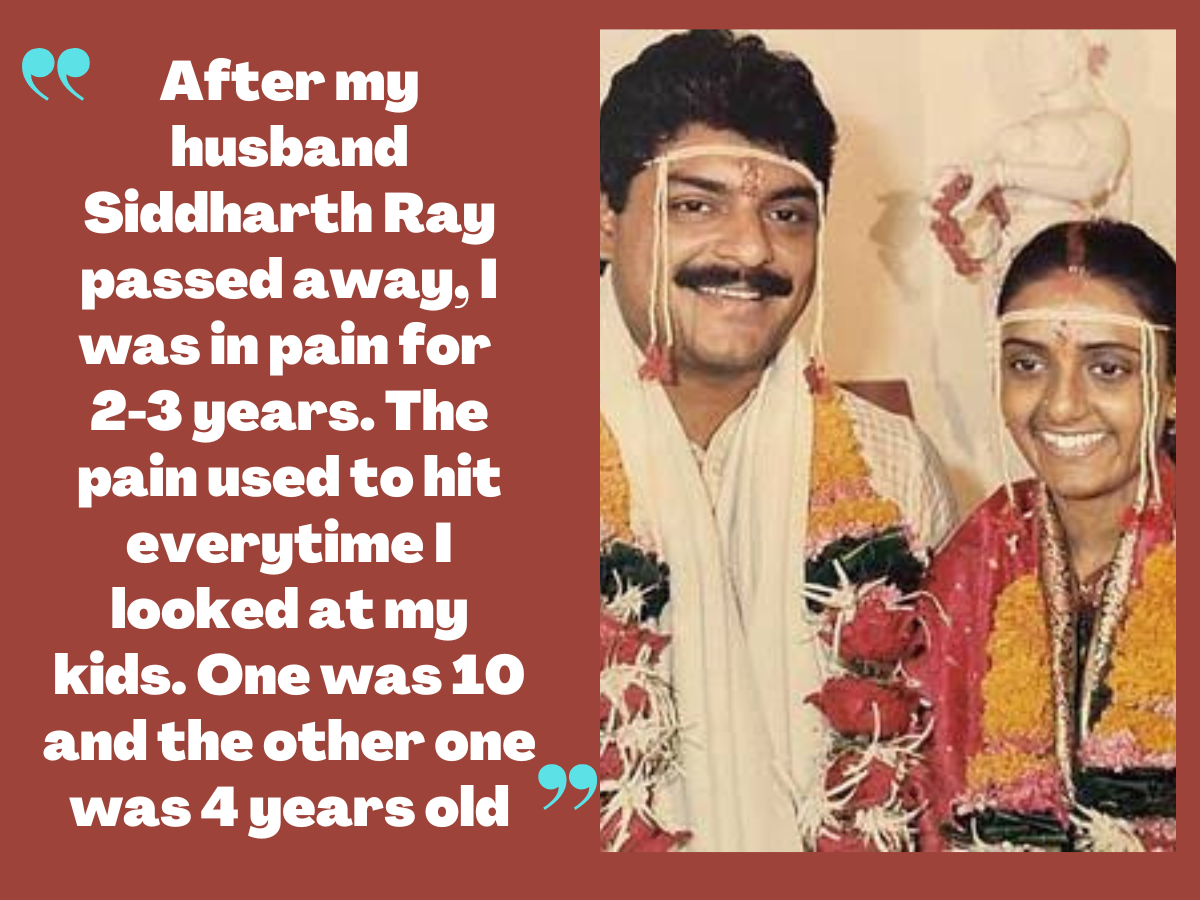 Strength and support are hand in glove. You need to figure if you are mentally prepared to fight and then people will give you support. But if you don't want to persevere, then what is the point of getting the support? You'll end up disappointing those who show faith in you. Jo bhi hai wo dil se aana chahiye aur karna chahiye (What you do should come straight from the heart). I truly believe in that.
Did your peers or friends from the film industry support you during your trying times?
First of all, the industry didn't even know whether I existed anymore. They didn't know if I was in Bombay or in Chennai. And that confusion still persists. I got some condolences from a few people. That's it. Even I did not reach out because it was my battle. It was upto me to handle it. I did not want to go and knock on someone's door and ask for help.
In the recent past you spoke about Akshay Kumar unintentionally making fun of your skin colour. You clarified he did with the best of intentions. But, have you faced the same kind of criticism from other industry people?
It wasn't Akshay Kumar. The entire industry had an attitude. It used to happen a lot during the 90s. Today, the phase of being a celebrity is a lot more natural. Every actor, every star, no matter how new, steps out with confidence. The paparazzi is everywhere and they click you as you are. That was not the case in the 90s. We never stepped out without makeup. And we never used to go for so many meet-ups. Bas kaam se ghar, ya phir mahurat ya openings pe bahar jana hota tha (We used to travel from home to work and back. And the odd visit to a film's mahurat or opening). That's it. The industry was vast but the media coverage was not.
Do you remember about your first pay cheque and what did you do with it?
Oh my god! My first pay cheque. I don't remember what I did with my first pay cheque. I think my mom must have opened an account and she must have deposited the cheque in the bank. Everything was about the family, even the finances. My mother must have saved and preserved my money. Because kabhi manga to kam nahi hua, jo bhi mangte the mil jata tha (Whenever we asked for the money, we got it, we never ran short). So it didn't matter who was bringing the money home, be it me, my sister or mother. There was no differentiation between the earnings. It all used to be for the entire family. Kahi bhi jana ho dinner, lunch or shopping, we used to do everything together.
Since you've worked in three South industries as well as in Hindi, have you ever felt a difference in the people and the culture?
Frankly speaking, I feel I was blessed to have worked in Telugu, Tamil, Kannada and Hindi cinema. Everyone I met, whether it was the directors, actors or the production house, everybody was so disciplined that I never felt the difference. Whether I was working in North or South, I always got disciplined colleagues. You take Akshay, Raj Sippy, Salim Akhtar, Mithun Chakraborty, Krishna Murthy, KC Bokadia or Ashok Gaikwad, everybody used to come on time. For 9 am shift, we used to report on set at 8:30-8:45. Recently, even during Dharavi Bank, director Samit Kakkad and Suniel Shetty used to come on time. I have never across or known anything different.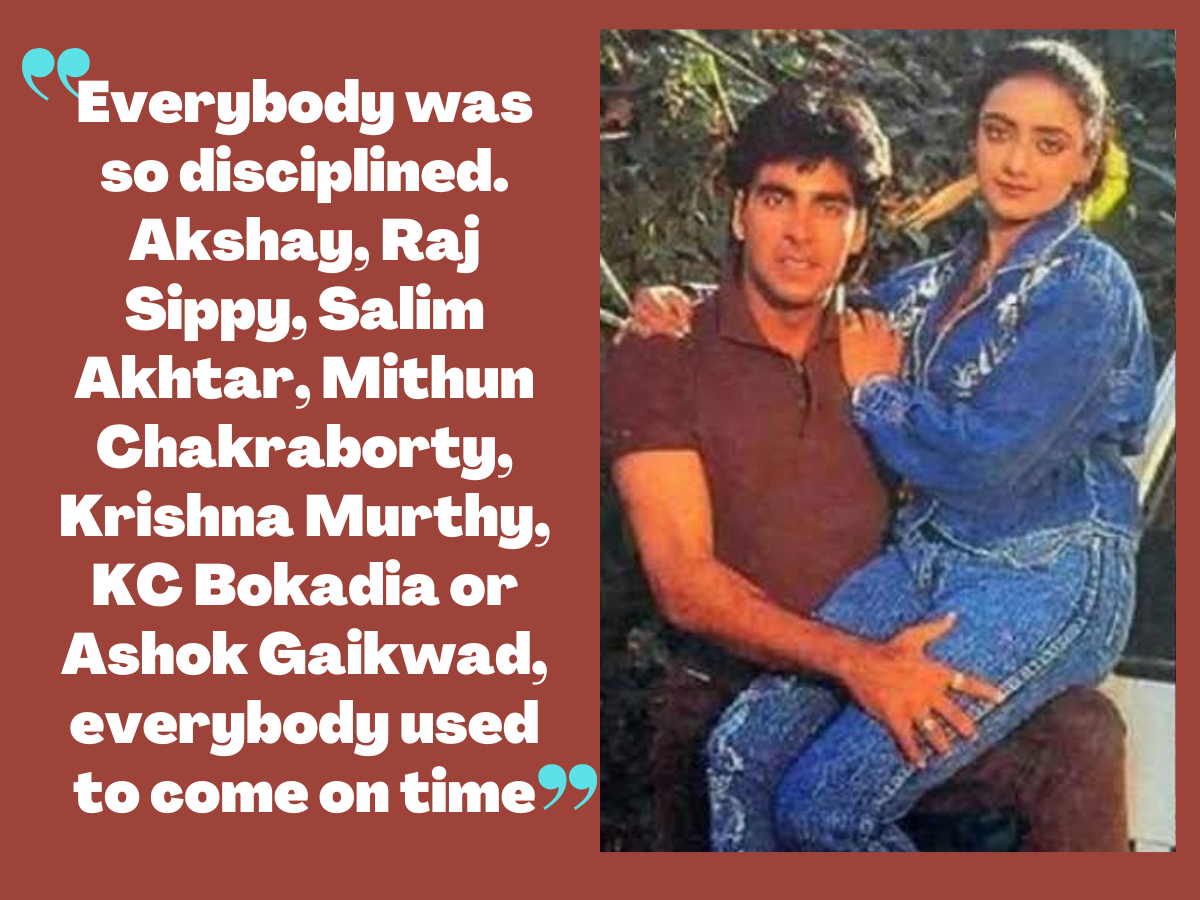 What are your best memories of working in the movies during the 90s?
Back in the 90s, we barely had any interaction with anybody. But let me share an incident from when I was shooting for Phool Aur Angare in Ooty with Mithun ji. I was also working on a South project at the same time. After Mithun left having completed his shoot, I was thrilled to know that Sridevi was also present in Ooty. I had never met her. But when I went to her hotel room and knocked on her door, she welcomed me with open arms. We sat down and had beautiful conversations. She was also shooting for a Hindi film in Ooty. I had always looked up to her. She was a beautiful actress and she carried herself beautifully through every character and film. I have always liked her. When I got the opportunity to meet her, I just went for it. She didn't say she was busy or anything. She just opened the door and then we just kept talking.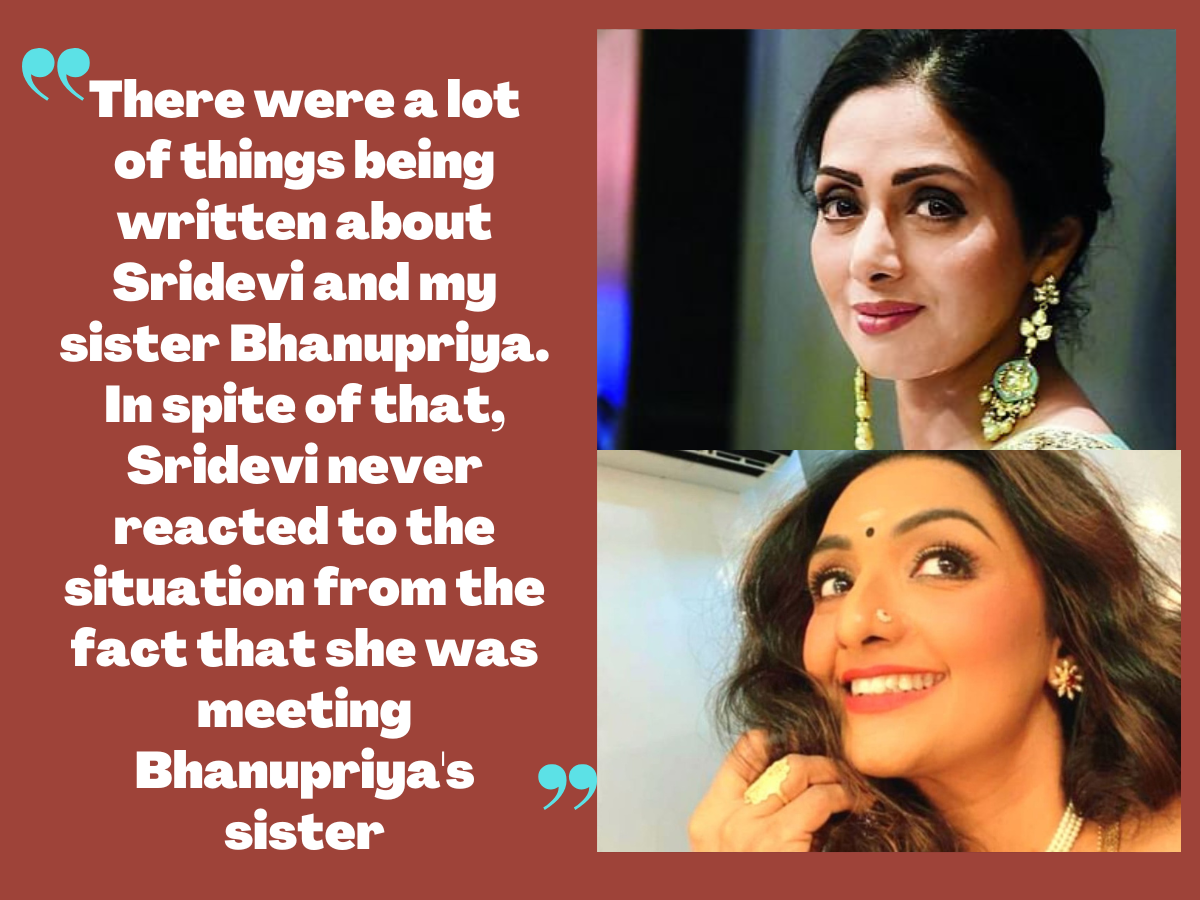 At that time, there was a bit of tough competition going on between Sridevi and my sister Bhanupriya. There were a lot of things being written about them. In spite of that, Sridevi never reacted to the situation from the fact that she was meeting Bhanupriya's sister. That is one of the most beautiful memories I have of her.
Was there intense competition between actresses as has been reported over the years?
We used to be our own competition. It was about how many more films we can do, how can we be even more busy. We never had time for a personal life in the 90s. Everyone was focussed on doing more films. Today's generation has become smart. They are managing their family life, holidays and projects simultaneously. We never used to have readings, script readings or workshops, so there are a lot of differences. Technology has changed a lot, too. Today you get preps, bound scripts, table readings, workshops for dance, acting and even several look tests. We never had these facilities.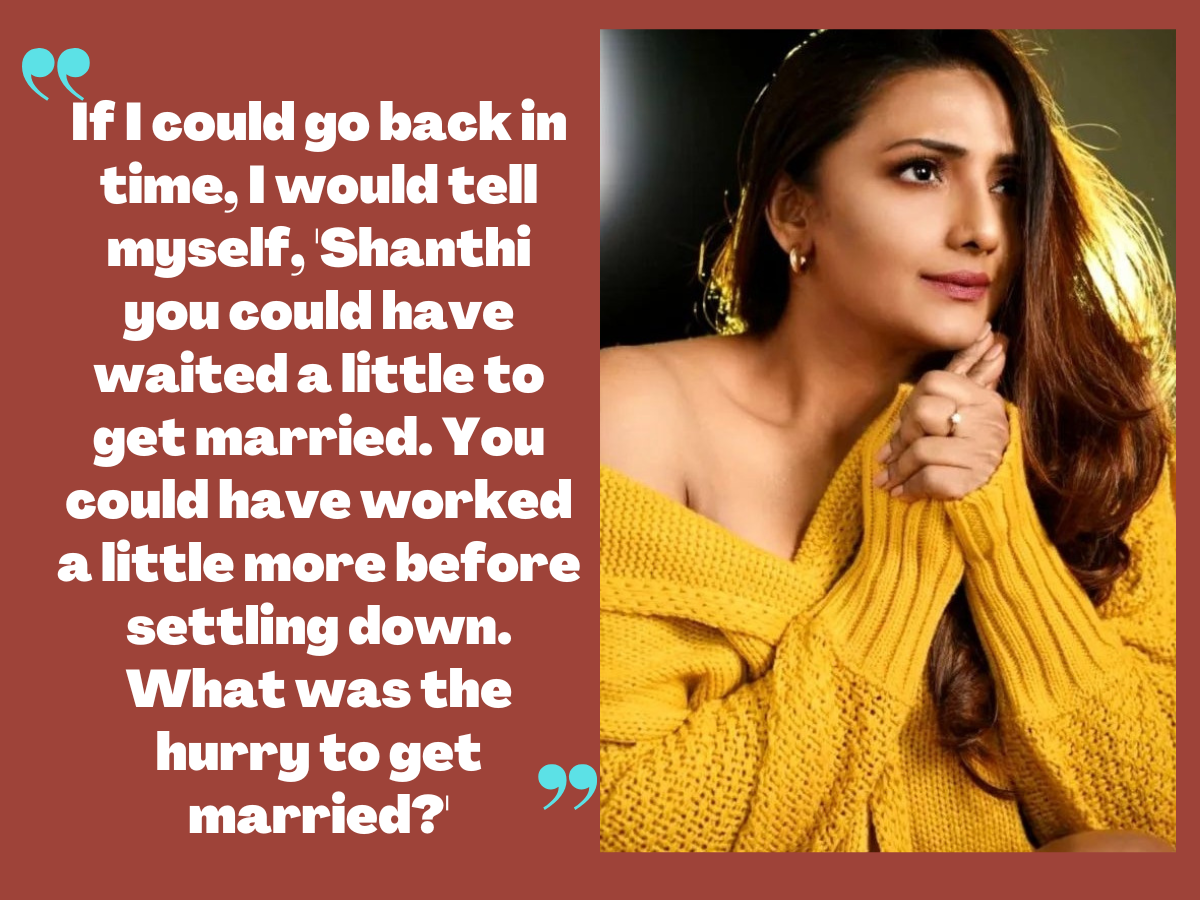 How did you portray the many roles in your real life?
It was tough. After all, my personal life was on stake. Marriage, wife, then daughter-in-law, then mother, it was really tough to play these roles. Being a South Indian it was also difficult for me to understand different languages such as Marathi and Bengali. It was difficult to learn about their culture. But gradually, I kept learning.
What would you like to change if you could go back in time?
If I have to go back in time, I would like to tell myself, 'Shanti, tu thoda aur ruk sakti thi shaadi karne ke liye. Aur thoda kam karne ke baad kar sakti thi shaadi. Itni jaldi kyun ki shaadi karne mein?' (Shanthi you could have waited a little to get married. You could have worked a little more before settling down. What was the hurry to get married?). But I don't repent it.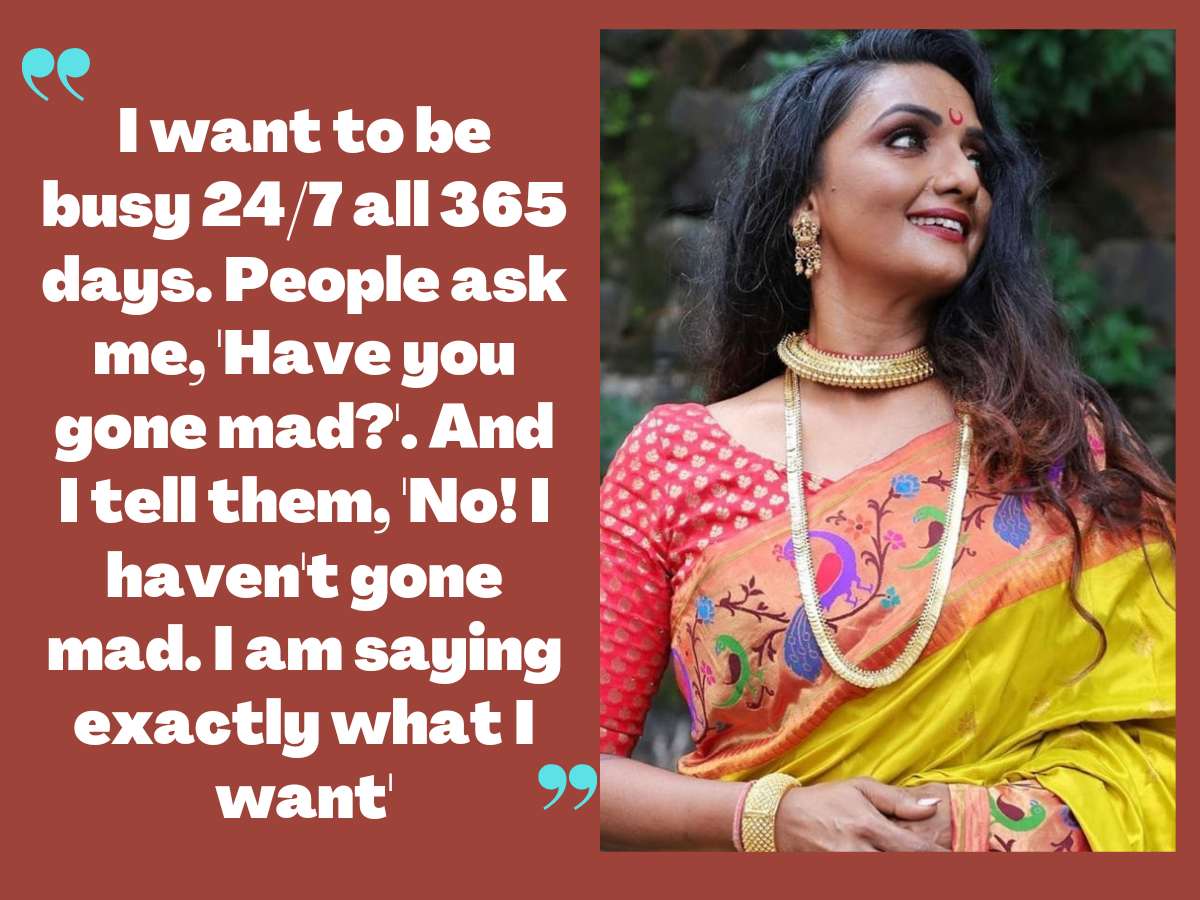 Tell us about your comeback plans.
I have full-fledged plans for my career. I have not come to enjoy, do masti or work in films for a couple of years and then leave. I have come back to where I belong. I have rested a lot. But now I don't want to rest anymore. I want to be busy 24/7 all 365 days. I should not have taken much time for myself. This is what I want. People ask me, 'Tu pagal ho gayi hai kya? (Have you gone mad?)'. And I tell them, 'Nahi, nahi. Main pagal nahi hu. Barabar sochke hi bol rahi hu mujhe jo karna hai. Yahi karna hai mujhe (No! I haven't gone mad. I am saying exactly what I want)'.