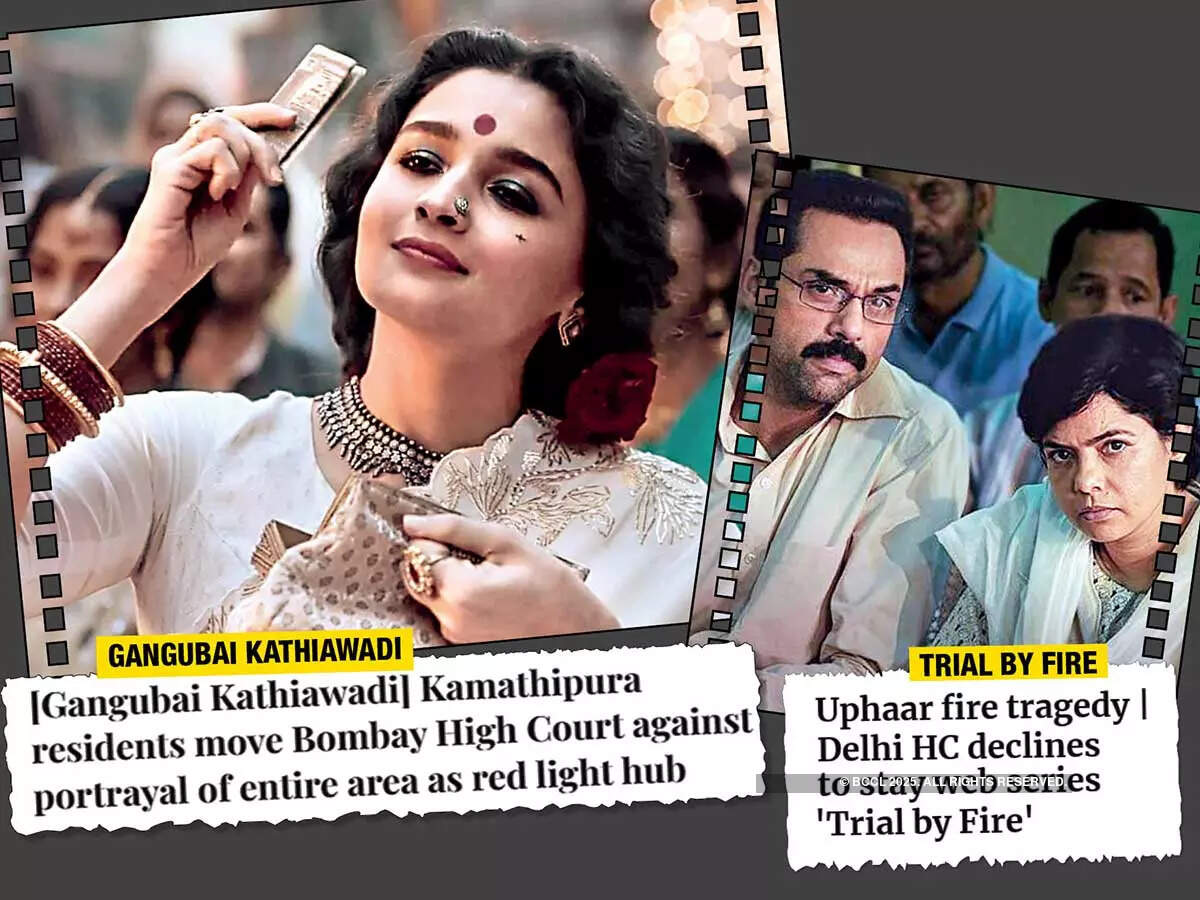 OTT ki aaj ki date mein himmat nahi hai, Tandav ke baad sab dar gaye hain," Anurag Kashyap said recently while responding to a query on Sacred Games Season 3. At least three criminal cases were filed against Tandav's cast and crew, citing disruption of religious harmony. Tandav isn't the only one. In recent years, series such as Mirzapur and Trial By Fire or films like Gangubai Kathiawadi and Samrat Prithviraj were also dragged to court over complaints.
Lawyers who have represented these films and series say that until a decade ago, film litigation was mostly limited to international studios claiming copyright infringement, but now – from defamation to 'hurt sentiments' – almost every other film is being dragged to court over an endless list of complaints. An expert legal team has now become crucial for a film/web series and their legal budgets have also gone up. We spoke to a few lawyers to understand this scenario.
'LEGAL TEAMS ARE CRUCIAL BECAUSE MAKERS CAN'T AFFORD A PROHIBITION ORDER'
Ruby Singh Ahuja, senior partner, Karanjawala & Co, who was involved in litigation related to Jolly LLB, Tandav and Mirzapur, says, "Filmmaking involves huge expenditure and no filmmaker can afford a prohibition order on the telecast of the film, especially in today's day and age when the shelf life of a film is relatively short. " "To avoid unnecessary litigation it is common not only for in-house legal teams to review the script, but also for production houses to take advice from external counsel, especially when it comes to issues of defamation or infringement of copyright," she adds.
'LEGAL EXPENSES COULD BE ANYWHERE BETWEEN ₹1-12 LAKH'
Meghana Chandorkar, partner, TMT Law Practice, says, "Depending on the film's budget and other factors, the portion that is attributed to the legal team on board could be anywhere between 3-10% of the film's budget. Roughly, legal team budgets have increased by 100-200% over the years. " Pritika Kumar, founder, Cornellia Chambers, adds, "The legal budget of a film depends on the overall budget of the production and the studio involved and can range from ₹1 lakh to ₹12 lakh or more. "
'BOLDER CONTENT MEANS MORE LEGAL EXPENSE FOR FILMMAKERS'
Pritika Kumar, founder, Cornellia Chambers, says,"Earlier, cases were usually filed for copyright infringement, especially by foreign studios where Hollywood movies were being remade in India without acquiring their rights. Now, with the advent of OTT, content has become bolder and so there has been a rise in litigation against movies for hurting cultural and religious sentiments. Filmmakers are also filing more cases because they are starting to understand the value of their intellectual property and the consequences of its exploitation. "
'THE BIGGER THE FILM OR THE STARS INVOLVED, THE HIGHER THE CHANCES OF LITIGATION'
Chandrima Mitra, partner, Media and Entertainment Practice, DSK Legal, says, "Film litigation has almost become a means of publicity. The bigger the film or the stars involved, the higher the chances of claims and litigation. Unfortunately, for many, it's like getting their five minutes of fame. Besides, it's easy to send notice to anyone. The instances of frivolous litigations have increased significantly over the years and most of these litigations get filed in the last two weeks before the release of the film. "

WHAT'S THE ROLE OF LEGAL TEAMS IN FILMS?
Meghana Chandorkar shares that legal teams are involved in the process from the stages of ideation to until the final cut of the film is ready. "The legal team reviews the concept, story, character descriptions, dialogues and the entire script as far as possible to assess the originality or identify and assist with the acquisition of all required third-party rights. They also carry out a risk analysis of the script," she adds.
"After the script is cleared, the legal team is also consulted during the production process, with queries pertaining to the use of third-party content, music, clearances, use of brands and names, depiction of emblems, and revision of dialogues, script deviations and changes, etc. The legal team also watches the edited film to highlight issues, non-compliances, censorship violations, etc," Meghana further says.

'VETTING SCRIPTS ALLOWS ONE TO GAUGE THE LEGAL RISKS INVOLVED'
"Vetting scripts and content has become a crucial function of legal teams. Most big studios and OTT platforms have in-house teams to carry out this function, while some engage external legal counsel for this work. Vetting allows one to gauge the likely legal risks involved and the legal and creative teams work together to create solutions to reduce the legal risks while also maintaining the authenticity of the production," says Pritika Kumar.
THE MOST COMMON CASES OF FILM LITIGATION ARE:
◆Religious sentiments being hurt
◆Distortion of facts
◆Obscenity
◆Portrayal of people (religious leaders,
historical figures, etc in a negative light)
◆Language which is
offensive to specific
communities or castes
◆Defamation
◆Violation of privacy
and publicity rights