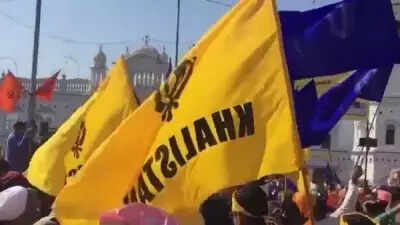 MELBOURNE: The consulate of India in the Australian city of Brisbane was targeted by Khalistan supporters who even raised the Khalistan flag at the office, the latest in a series of radical activities against the Indian community in the country, according to a media report. The incident came days after external affairs minister S Jaishankar visited the country and emphasised the need for vigilance against "radical activities" targeting the Indian community in Australia.
According to the Australia Today portal, the consulate was targeted on the night of February 21. Consul of India in Brisbane Archana Singh found the Khalistan flag attached to the office when she arrived on February 22, the report said. Singh immediately notified the Queensland police, which on arrival confiscated the flag and swept the consulate of India to clear of any immediate threat. "Police are surveilling the area to keep us safe. We have strong faith in police authority," Singh told the Australia Today.
The incident comes following the vandalism of three Hindu temples in Australia by Khalistan supporters. On January 23, the management of the International Society for Krishna Consciousness (Iskcon) temple in Melbourne found the walls of the building vandalised with anti-India graffiti. On January 16, the Shri Shiva Vishnu Temple in Victoria was vandalised in a similar manner. On January 12, the Swaminarayan temple in Melbourne was defaced with anti-India graffiti.
Jaishankar and his deputy V Muraleedharan during their visit on February 18 to Sydney and Melbourne have raised India's concerns over the issue. Jaishankar during his meeting with his Australian counterpart Penny Wong discussed the issue. "Noted the forward movement on our bilateral agenda. Emphasised the need for vigilance against radical activities targeting the Indian community," Jaishankar had tweeted. However, on the same day, Khalistan supporters threatened two Hindu temples while they were celebrating
Mahashivratri
, the report said.