When one talks about bhajans, the first name that pops up in mind is that of Anup Jalota. He is rightly called the Bhajan Samrat of India. The Padma Shri awardee was recently honoured with the prestigious Sangeet Natak Akademi Award, aka Akademi Puraskar, for his contribution to music. ETimes sat down with the ace singer for an exclusive interview where he spoke about receiving the honour, today's music scenario, the need to reinvent, and the song closest to his heart. Excerpts…
You received the prestigious Sangeet Natak Akademi Award, aka Akademi Puraskar, from the hands of our honourable President Droupadi Murmu recently. What was the feeling like?

Our president is actually a very religious person. She is a follower of Brahma Kumaris. I already knew that she liked my music. When I went to receive my award, she told me how happy she was that I was getting that award. I was glad to know that they thought I deserved the award.
This comes eleven years after you were conferred the Padma Shri Award for your contribution to music…
It is a very beautiful feeling. In the past eleven years, I have matured more as a singer and performer. In my opinion, it is never late or early. When you get it, it's the right time. You must be humble and thank the Almighty, and I did the same.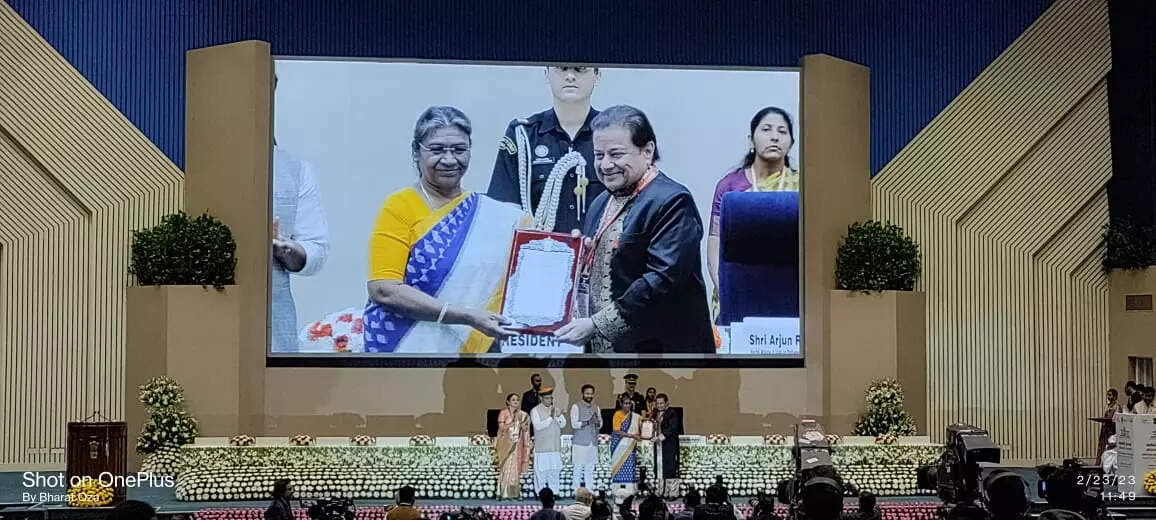 You started your career as a chorus singer and went on to become the Bhajan Samrat of India. How do you look back at your journey so far?
When I started out in Mumbai, I got a job at All India Radio as a chorus singer. I had come to Mumbai from Lucknow. Working as a chorus singer was a learning experience for me. I had to sing with others there. I got an opportunity to work there for two years. I am still in touch with the people from that chorus group. I enjoy catching up with them, even today.
Do you think the scope and demand for ghazals and bhajans are declining in today's music scenario?
On the contrary, I think demand for bhajans is rising. More than 50 percent of the revenue of the music companies comes from bhajans. Ghazals are selling a little less than that. 70 percent of the population lives in villages, and they are quite religious. They love bhajans. It is their everyday practice to sing bhajans. So I believe the demand is increasing.
You have occasionally indulged yourself in acting too. How has your experience been? Do you wish to do more of on-camera assignments?
Acting is not my profession. It is something that breaks my monotony. I keep performing in 20 concerts a month. It gets a bit monotonous, and to break that monotony, I accept roles in movies. Recently, I played the role of Chief Minister in the film, 'Khoobsurat Padosan'. This film is being produced by Bappi Lahiri's daughter, Rema Lahiri. It also stars Govind Namdev and Rajpal Yadav. The film has wrapped up its shooting schedule now. Acting gives me much-needed relief.
What would you be if you weren't a musician today?
I would have been a cricketer. I was a good cricket player during my high school and college days. However, I decided to concentrate on my music.
Being a renowned face in the industry, how do you deal with controversies?
Controversies are created by people. People think both positively and negatively. When they start thinking more negatively, that's when the controversy arises. However, I always make sure I clarify my stand. For example, when I was inside the Bigg Boss' house, there were news regarding Jasleen Matharu. The day I came out of the house, I cleared everything, and the controversy was over in a day.
You have sung with Lata Mangeshkar in films like 'Ek Duuje Ke Liye' and 'Professor Ki Padosan'. How would you describe her as a singer and as a person?
Lata ji was not a singer. She was an incarnation of Goddess Saraswati. She took birth on this planet and taught people how to sing perfectly. She passed away on Basant Panchami. It is a day when we immerse the idol of Goddess Saraswati in water. I was fortunate that I got to know her personally. I sang with her. It was more than I can ever ask for.
Your equation and relationship with Jasleen Matharu made headlines for a long time. You also made a film with her. Do you share a cordial bond with her even today?
I am not in touch with her. Sometimes during the recording or during one of the concerts, her father calls me. However, whenever we meet, we are cordial with each other. We were not in a relationship, so I don't see any harm in meeting her. We just shared a teacher-student relationship.
From amongst the current generation of singers, who do you think has great potential?
Although Sonu Nigam is not from the current generation, I think he is a great singer. He has proved that over the years. Among the new singers, I feel Arijit Singh has done pretty well for himself. After Arijit, if there is one singer I am very fond of it is Papon. He has a very different and distinguished voice. I am quite fond of his singing.
How important is to reinvent oneself in today's age of digitalisation?
Development and improvement are required, whether it is playing a musical instrument, singing, or any other profession. One must keep experimenting. If you don't do that your creativity will become monotonous. I compose songs every day and try to make them different from my previous ones.
Most of your songs are still relevant and are loved by your fans. Which one is closest to your heart, and why?
'Aisi Lagi Lagan' is my favourite song from among all the other songs of mine because it has given me immense popularity and love from people. People know me because of this song.