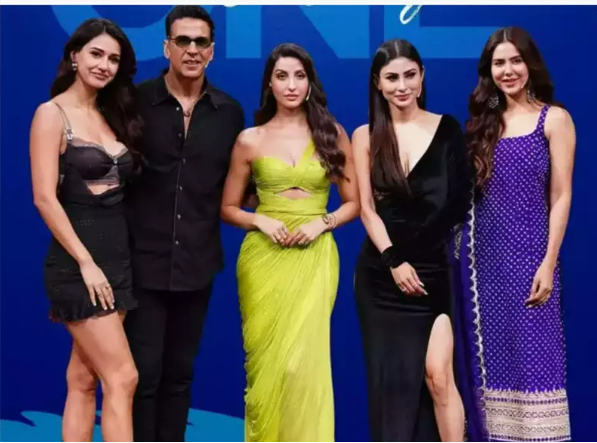 The buzz around The Entertainers US tour show, to be held soon has been going the rounds recently. The same, boasting of Bollywood bigwigs will see Akshay Kumar lead the pack along with Nora Fatehi, Mouni Roy, Sonam Bajwa and Disha Patani.
While Nora has already reached US shores over the weekend, Akshay Kumar, Disha Patani, Mouni Roy and Sonam Bajwa were recently spotted at the airport, leaving for the same. Interestingly, all four of them were seen dressed up in black and white for their flight. While Disha wore a white-cord set with a crop top, Sonam, Akshay and Mouni were all dressed in black. All four of them happily posed for the paps before making their way inside the airport.
Initially, the show was supposed to be performed in Atlanta, Texas, Florida, Oakland and New Jersey, but it has now been confirmed that the New Jersey show stands cancelled as the promoter has defaulted on payments. A source, giving more info on the matter added, "The Entertainers Tour's New Jersey show was unfortunately called off because the local promoter Amit Jaitley of Sai USA INC failed to pay the national promoter. Despite the presence of a large Indian population in the city who were excited about the show, it is canceled because of non-payment.
However, the show which will see Akshay dance to his hit numbers, accompanied by all these leading ladies is expected to be performed as per schedule in all the other four cities, without any further hindrance.